Remembering the Old Bridge; Getting Ready for the New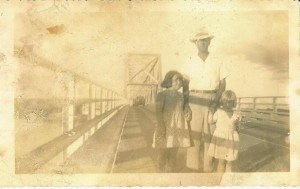 Alvin, Katie & Mary Jane Ford on Greenville Bridge, ca. 1952. Photo found behind Dining Room Mantel at Lakeport
As the bridge opened in 1940, the Delta Democrat-Times (Greenville, MS) reported the ferry operation of the Greenville Bridge & Ferry Co. was transporting "200 to 300 cars, plus trucks and busses" each day.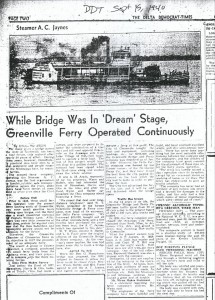 Delta Democrat-Times, September 15, 1940
As the new Bridge opens, Lake Village would like to welcome visitors again. Come see Paul Michaels, the Cow Pen, Lake Chicot, Lakeshore Cafe, Rhoda, and
Lakeport Plantation.
The new bridge will be dedicated at 10 am on Monday, July 26 and will open to traffic on Wednesday, July 28. Lakeport will be open Saturday, July 31. I'll post more about our Saturday hours tomorrow.