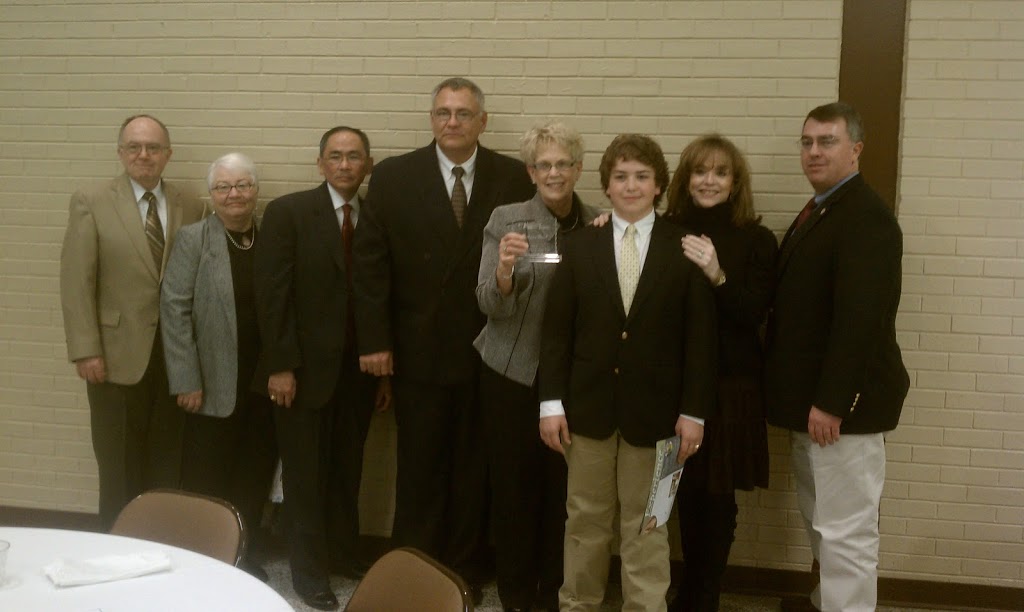 Preservation & Tourism News for Lake Village & Chicot County
The Arkansas Historic Preservation Program, in a press release, announced Lake Village's downtown has been added to the National Register of Historic Places. On Saturday, April 9th at 11 a.m., AHPP will hold its Walks through History program in downtown Lake Village. Lakeport will also be open following the Walks through History program.
DOWNTOWN LAKE VILLAGE LISTED ON NATIONAL REGISTER OF HISTORIC PLACES
LITTLE ROCK—The Lake Village Commercial Historic District at Lake Village in Chicot County has been listed on the National Register of Historic Places, the country's official list of historically significant properties, Arkansas Historic Preservation Program Director Frances McSwain announced today.
The Lake Village Commercial Historic District – which is bounded by Lakeshore Drive, Jackson Street, Chicot Street and Church Street – features buildings dating to around 1906.
"The district reflects the growth of Lake Village as a nucleus of commerce and trade in southeast Arkansas," the National Register nomination says. "As the county seat, Lake Village is a center for local government and the Chicot County Courthouse is a cornerstone of the downtown commercial district. The Lake Village Commercial Historic District contains 38 buildings and one monument."
The AHPP is the Department of Arkansas Heritage agency responsible for identifying, evaluating, registering and preserving the state's cultural resources. Other agencies are the Arkansas Arts Council, the Delta Cultural Center in Helena, the Old State House Museum, the Arkansas Natural Heritage Commission, the Mosaic Templars Cultural Center and the Historic Arkansas Museum.
On Friday, February 18th, the Delta Byways held their 11th Annual Delta Awards in Forrest City. Lake Villagers were dominated for two awards;
Brianne Connelly of Lake Village was nominated for the Tourism Support Award and Lake Village Mayor JoAnne Bush was nominated and won Tourism Person of the Year.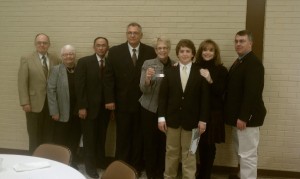 Tourism Person of the Year Winner JoAnne Bush with family and supporters from Lake Village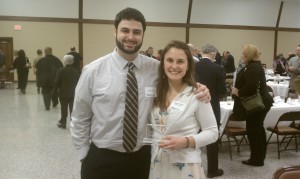 Brianne Connelly, Tourism Support Nominee, with James Bacon
11th Annual Delta Awards for Tourism Achievement
The 11th annual Delta Awards recognizing tourism achievements in Eastern Arkansas were presented during festivities Friday evening, February 18, at the Forrest City Civic Center in Forrest City, Arkansas. The event was sponsored by Arkansas Delta Byways, with support from the St. Francis County Museum and the Forrest City A & P Commission.
Finalists for the awards were as follows, with the winner designated by an asterisk:
Cross County Historical Society Newsletter, Wynne
*Delta Crossroads Magazine, Piggott, Rector, Manila and Trumann
Rob Johnson, Forrest City Broadcasting
2. Hospitality Award
*Lake Poinsett State Park, Harrisburg
Paragould Community Center, Paragould
3. Entrepreneur Award
ASU Farmers' Market, Jonesboro
E. J. Miller, Colton's Steak House, Marion
*Periwinkle Place, McGehee
4. Tourism Support Award
Brianne Connelly, Lake Village
*Electric Cooperatives of Arkansas, Little Rock
5. Festival/Event of the Year
Blues on Broadway, West Memphis
Loose Caboose XXI, Paragould
*Tour duh Sunken Lands Harvest Ride, Dyess, Lepanto, Marked Tree and Tyronza
6. Boot Strap Award
*Main Street Paragould's Holiday Traditions, Paragould
McGehee Historic Depot, McGehee
7. Promotional Award
Arkansas DeltaMade Artists – Betsy Brackin, Norwood Creech, Suzanne Churchill,
Edward Wade and Nancy LaFarra Wilson, All Counties
*City Branding Programs, Blytheville, Helena, Paragould and West Memphis
Bike Crowley's Ridge, Mississippi River Trail
8. Outstanding Member Award
*Sheilla Lampkin, Monticello
Vicki Trimble, Lake Frierson State Park, Jonesboro
9. Cultural Heritage Award
*Exploring the Arkansas Frontier, ASU Museum, Jonesboro
Civil War Helena, Phillips Helena
Parker Pioneer Homestead, Harrisburg
10. Tourism Person of the Year Award
*JoAnne Bush, Lake Village