Scott House Designed by Architect James Willis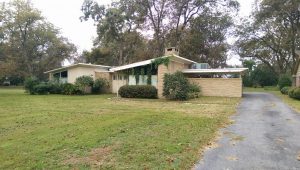 The Scott House, also known as the Buffington House, in Lake Village was built in 1951 for Clyde and Leslie Scott. Clyde, a gifted athlete for the Arkansas Razorbacks and an Olympic medalist, married Leslie Hampton of Lake Village in 1946. The couple built this Mid-Century Modern home as a summer house in 1951. Local lore attributes the house to E. Fay Jones (likely because he was a friend during the Scott's time in Fayetteville); However, the home does not resemble any of Jones' work nor is it listed in any of his projects. According to Leslie Scott, the architect was James Willis, who was with the Little Rock firm of Wittenburg, Delony and Davidson from 1949-1955. Later Willis formed the Pine Bluff firm of Reed & Willis with D. A. Reed.
The Scotts owned the house for about five years and then it was sold to the Marvin & Louise Buffington. Marvin Buffington, a local historian, wrote several histories of Chicot County institutions.  After Marvin's death in 1994, Mrs. Buffington sold the home to Charles Turnage. The home is currently vacant.
Sources:
Cashion, Scott." Clyde Luther "Smackover" Scott (1924–)," in Arkansas Encyclopedia of History & Culture, http://www.encyclopediaofarkansas.net/encyclopedia/entry-detail.aspx?entryID=2761 (Accessed June 15, 2016)
Fay Jones Collection, Special Collections, University of Arkansas Libraries, Fayetteville, https://libraries.uark.edu/specialcollections/manuscripts/FayJones/projects.asp (Accessed June 15, 2016)
Hampton, Leslie. Phone interview, June 15, 2016
Williamson, Elizabeth (Buffington). email correspondence, July 13-14, 2017
Willis, James. Obituary in Find a Grave.com, http://www.findagrave.com/cgi-bin/fg.cgi?page=gr&GRid=96807198 (Accessed June 15, 2016)
updated July 14, 2017