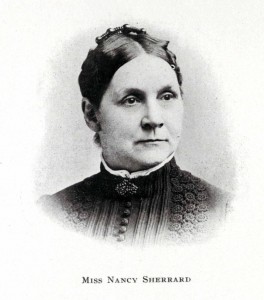 Image Courtesy of Archives and Special Collections, U. Grant Miller Library, Washington and Jefferson College, Washington, PA

One of the few glimpses of life at Lakeport during the antebellum period comes from the "autobiography" of Nancy Sherrard, the private tutor for the Johnson's children between the summer of 1860 and the spring of 1861.
Sherrard, a native of the prosperous Ohio River town of Steubenville, Ohio, wrote a short autobiography around 1890 as she was nearing the end of her teaching career.
1
In reference to Lakeport, she tells a few details about the Johnson family and slavery not recorded elsewhere.
However, most importantly, it reveals the strain of a Northern woman living and working in the Deep South as the country descended into civil war.
Published in 1890 as part of The Sherrard Family of Steubenville, written by Nancy's father, Robert Andrew Sherrard, and edited by her brother Thomas Johnson Sherrard. The book is long been known to historians, but can now be read more widely through Google Books and the Internet Archive.
Nancy Sherrard graduated from the Steubenville Female Seminary in 1851. In the summer of 1860, following a number of teaching engagements at schools in Ohio, Pennsylvania, and Kentucky, she was recommended to "Mr. Lycurgus Johnson, a wealthy planter of Lake Port, Arkansas, who wished a private instructor for his children." Accompanying the 30 year old Miss Sherrard was Miss Martha Torrance of New Alexandria, Pennsylvania. Miss Torrance taught two children at the home of Verlinda Johnson, Lycurgus' mother, who lived about a mile away, while Miss Sherrard taught three girls and one boy in the Lakeport home.2
At the Lakeport Plantation, Miss Sherrard reported, "there were one hundred and fifty slaves" raising "twelve hundred acres of cotton and three hundred acres of corn." Inside the home, Sherrard noted: "in the family of Mr. Johnson there were seven or eight house-servants," including "a well-trained dining-room servant" purchased the year before with his wife and child for $3,000.3
As the summer of 1860 turned to fall, the U.S. presidential election became the flashpoint for tension between the Republican North and the Democratic South. In November 1860, antislavery Republican candidate, Abraham Lincoln, was elected president infuriating the Democratic slave South. From December 1860 to February 1861, led by South Carolina, seven southern states left the Union to form the Confederate States of America. Arkansas, Virginia, North Carolina, and Tennessee would remain in the Union for now.
Miss Sherrard's political upbringing could not have been more different from the Johnsons. Her family was made up of die-hard Northern Republicans, while the Johnsons' were Southern Democrats with deep political roots in Virginia, Kentucky, and now Arkansas.4 The country's political differences and those between her and her employer led Miss Sherrard to think of leaving Lakeport. She wrote to her father on Saturday, February 16, 1861, stating, "I am meditating seriously on going home, for I do not feel satisfied to say here in the present state of the country. I do not know yet how soon, but indeed I begin to feel uncomfortable." Miss Sherrard wrote, "People down here are strong disuionists, and blame everybody else differing from them even in slight matters." She then described a dinner conversation in which Mr. Johnson said to her "Miss Sherrard, there are a great many good people in the South." To which she curtly replied, "Yes…and it is a pity that they let the rascals lead them." Later, she worried, "Now, I suppose the next thing they will think I am an Abolitionist…I suppose Mr. Johnson will think I went beyond my sphere, which is to teach his children, and not to talk politics with him, which is undoubtedly true. I wish I was at home, where I could talk without people getting angry about what I say."5
Following Lincoln's election, the country's unfolding drama focused on Fort Sumter at the bay entrance to Charleston, South Carolina. Federal troops, holed up inside Fort Sumter since December 26, were attacked by Confederate forces on April 12 as the Federal troops awaited new supplies. The Civil War had begun and Confederate forces won their first battle on April 14, when the Federal troops at Fort Sumter surrendered.6
After the fall of Fort Sumter, Nancy Sherrard left Lakeport on a "Southern boat." It stopped in Memphis after hearing Federal troops were at Cairo, Illinois. She continued her journey on the Queen of the West, a "Northern boat" bound for Cincinnati. At Randolph, Tennessee, the "Northern boat" was fired upon by "rebels." Finally, at Cairo, Illinois, she saw the United States flag for the first time on the trip. On Tuesday, April 30, 1861, she arrived back in Steubenville, Ohio. Six days later, on May 6, Arkansas delegates to the special convention voted to secede from the Union.7
In 1874 Miss Nancy Sherrard, after a few years of teaching in Kentucky Indiana, and New York, was elected as Principal at Washington Female Seminary in Washington, Pennsylvania. She stayed in that position until in 1897. A notice of her retirement stated, Miss Sherrard "kept the school in the front rank of schools of its kind, as well as making it a financial success."8 In 1890, Miss Sherrard reflected on her time at Lakeport and wrote, "I have always been glad that I saw the South in the days of slavery, and also had the opportunity of seeing the inside workings of Secession during that winter."9 She died in April 1914.10

1. On Steubenville, see "Steubenville, Ohio", Ohio History Central, July 1, 2005, http://www.ohiohistorycentral.org/entry.php?rec=804
2. Nancy Sherrard quoted in Robert Andrew Sherrard, The Sherrard Family of Steubenville, Thomas Johnson Sherrard, ed. (James. B. Rodgers Printing Co: Philadelphia, 1890), 287. Martha likely taught 15 year old Robert Adams and 13 year old Linnie Adams; Robert and Linnie were the offspring of Nancy Johnson Adams, Lycurgus' sister. Nancy likely taught Mary, Linnie, Theodore, and Annie, ages 11, 9, 7, and 5 respectively. See U.S. Census, Manuscript Returns. 1860. Schedule of Population, Louisiana Township, Chicot County, Arkansas; Crop creek Township, Jefferson County, Ohio.