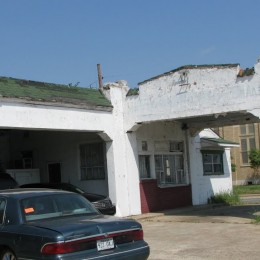 Back in April, the Arkansas Historic Preservation Program focused on downtown Lake Village for their "Walks Through History Tour."  In February, Lake Village's downtown was added to the National Register for its local significance under Criterion A (economic development of the city) and C (mid 20th-century architecture).  According to AHPP, "The Lake Village Commercial Historic District exemplifies the growth of the city through its peak in the 1950s.  The period of significance extends from 1906 to 1960." 


The script for the AHPP tour, given and researched by Rachel Silva, is now available on AHPP's website as a pdf file.  My Pictures of the tour are below:
This August one of the buildings discussed in the tour, the Dixie Queen, was torn down.  The tour script says, "Not in district—built about 1935 as a filling station. Later became the Dixie Queen Dairy Bar, a popular hangout for Lake Village youth in its heyday."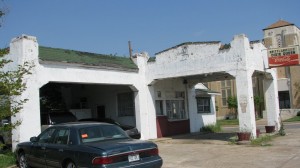 Dixie Queen, April 2011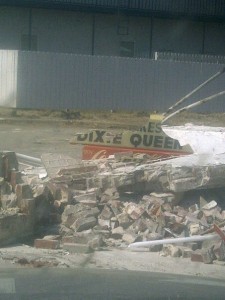 Dixie Queen, August 3, 2011. Photo by Ned McAffry.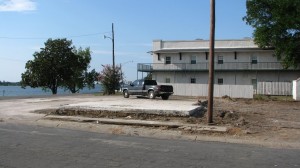 Slab on N. Lakeshore Dr., August 8, 2011
While the loss of the 1935 Dixie Queen / filing station leaves a hole in the city's historic fabric and an empty lot along the lake front, the city of Lake Village continues with its plans to restore the historic Tushek Building for city offices.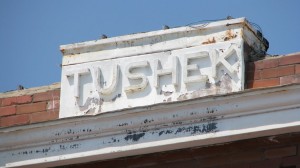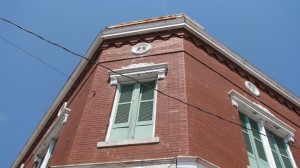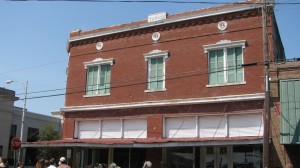 Tushek Building, April 2011
The 1906 Tushek Builing is described in the National Register nomination as the "finest example of a commercial building designed in the Beaux Arts style in the county seat of Lake Village."  The earliest known photo of the building is from a 1908 postcard: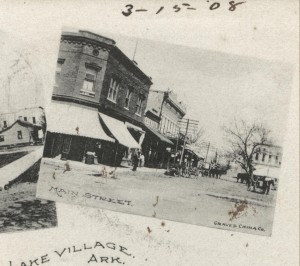 1908 Postcard of Lake Village (corner of Main & Court Streets).  Courtesy of Blake Wintory
Meanwhile, over in Monticello (Drew County), the city celebrated the dedication of the rehabilitated Ridgeway Hotel Historic District (includes H. M. Wilson Building).  The Ridgeway, a 1930 hotel and a 1912 hardware store, have been rehabed into senior living apartments.  The historic district was added to the National Register in 2009.