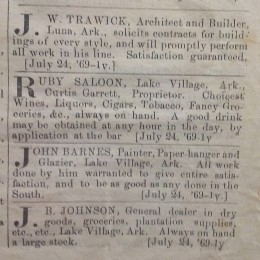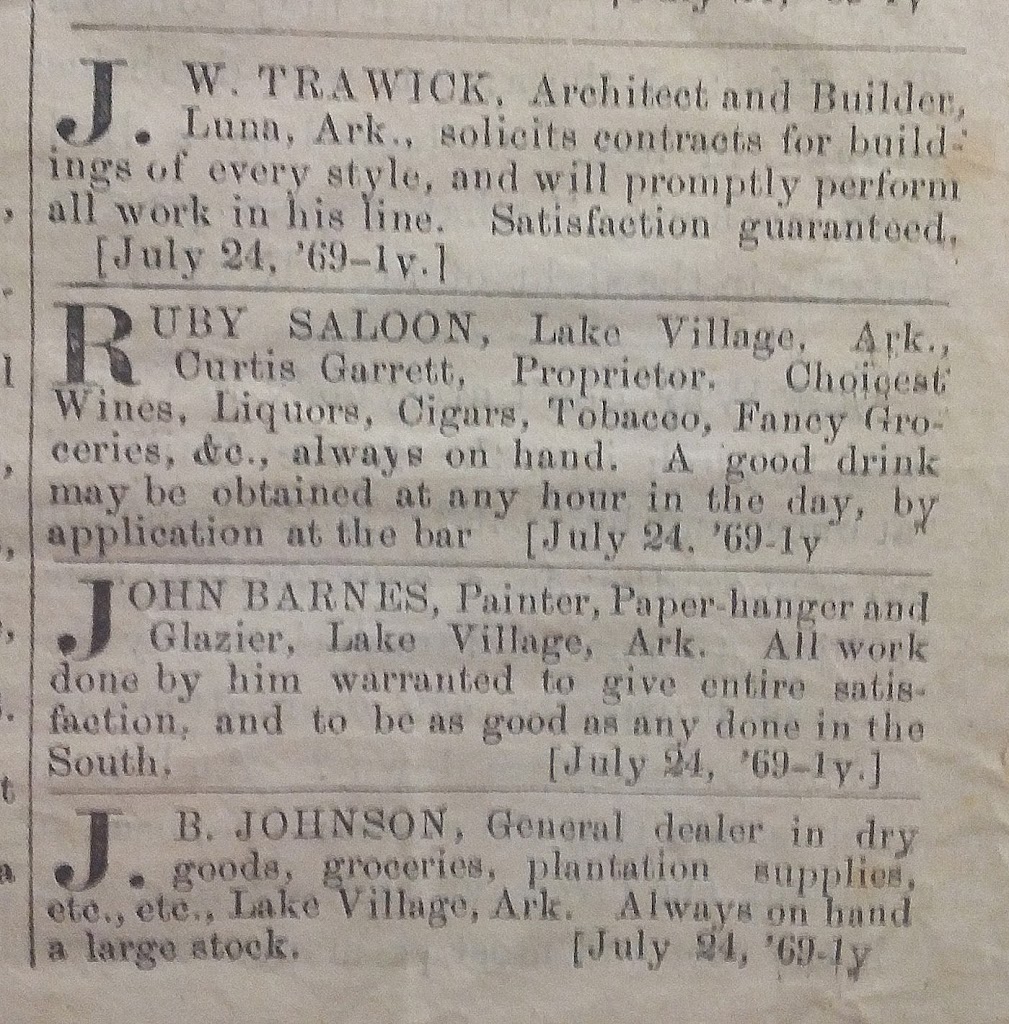 Advertisements for architect/builder and a painter/paper-hanger in The Chicot Press, February 26 1870
In an 1870 Chicot County newspaper two craftsmen advertise their services. Architect and builder J.W. Trawick is an "Architect and Builder" at "Luna, Ark." He "solicits contracts for buildings of every style, and will promptly perform all work in his line." Your "Satisfaction is guaranteed" he states confidently. In  the 1870 Census, Trawick is listed as a thirty-four year old carpenter. Living at Luna Landing, he was born in North Carolina, as was Jane (sp?), his thirty-three year old wife.

John Barnes, a "Painter, Paper-hanger and Glazier" also advertised his services. Barnes offered a more verbose and sweeping guarantee: "All work done by him warranted to give entire satisfaction, and to be as good as any done in the South." In the 1870 Census, Barnes is a thirty year old painter. Living at Lake Village, he was born in Illinois; his wife, Mary Jane, age eighteen, was a native Arkansan.

Ten years earlier in 1860, Barnes is a twenty-three year old painter; listed this time in the Census as a Indiana native. In 1860, he shared a Lake Village residence with several other craftsmen:
Charles Pearcy, 29 year old bricklayer, born in Kentucky

Margaret Pearcy, 18, born in Tennessee

Charles H, 4, born in Mississippi
Richard, 4 months old, born in Arkansas

Isaac Norton, 25 year old bricklayer, born in New York
George Rundle, 23 year old painter, born in Virginia
Living next door the bricklayers and painters in 1860 is Andrew J. Herod, a mechanic (builder). Herod was in Chicot County as early as 1858 and likely arrived in Lake Village to help build the new county seat. He advertised his services in the January 17, 1861 Chicot Press— the only antebellum Chicot County paper known to survive. Like Trawick, a decade earlier, Herod styled himself a "Architect and Builder." He


SOLICITS contracts for buildings of every style. He is also prepared to furnish Designs, Estimates, and Perspective Drawings of all the modern orders of architecture: build, measure, superintend, and furnish working plans for building at modest prices.
 Herod, a Mississippi native, was later appointed Mississippi's State Architect by Governor Benjamin G. Humphreys in 1865. However, little is known about Herod, and by 1870 he was farming in Yazoo County, Mississippi.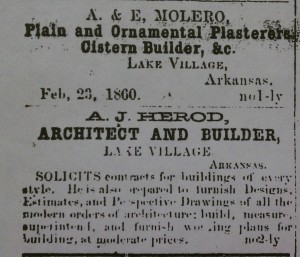 The Chicot Press, January 17, 1861
Above Herod's 1861 advertisement is an ad for A & E Molero, Plain and Ornamental Plasters and Cistern Builder. In the 1860 Census, Edward and William Molero are English born plasters, likely brothers, ages twenty-six and thirty-five. They are living in the Packet House Hotel with a number of Lake Village notables (lawyers, a printer, a merchant, a mechanic/builder and a physician), including Daniel H. Reynolds and William B. Street. A year later the British-born plasterers had been recruited into Reynolds' Chicot Rangers. The Moleros settled in Meridian, Mississippi, where Edward appears in the 1870 Census and William in the 1910 Census.
Other building tradesme

n residing in downtown Lake Village in 1860:
John T. McMurray, 23, painter, born in Jamaica, Residing at the Parker House Hotel.
Daniel B. Miles, 22, bricklayer, born in Mississippi.  Residing next door to the Parker 
     House Hotel with his wife, Arthenia Miles, 22
John C. C. Bayne, 30, painter, born in Georgia.  Living with his family. 
      sometime between 1857 and 1860]
            Margaret Bayne, 24, born in Alabama
            Charles J. Bayne, 6, born in Mississippi
            George Bayne, 3, born in Mississippi 
Thomas Bateman, 20, bricklayer, born in England.  Living at the Buck Horn Hotel, John