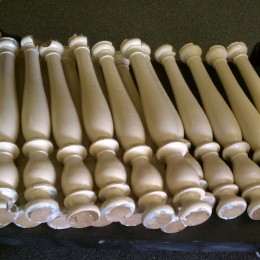 Earlier this week, I received a phone call from Realtor, Dottie Collins in Greenville, Mississippi. "Blake," she said, "your Lakeport balusters are ready to be picked up." She was referring to the 19 Lakeport balusters, which made up the front porch balustrade, that had been in a Greenville, Mississippi home since 1953. The house had just sold and the new owner was gutting the house. Dottie informed the new owner that the balusters had come from Lakeport and he saved them. I called the new owner and rushed over to the house and found them waiting for me in a large garbage bag.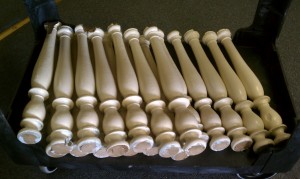 Original Lakeport balusters salvaged in 2012 from a home in Greenville, Mississippi
Here's the back story: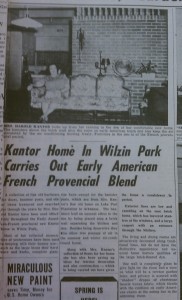 May 26, 1953, The Delta Democrat Times
Back in 2008, while searching for information about Lakeport in Greenville's The Delta Democrat Times, I came across an article from May 26,1953 about the new home of Mrs. Harold Kantor in the Wilzin Park neighborhood. The article recounts Mrs. Kantor's collection of old Americana to decorate her "Early American-French provincial" home. Mrs. Kantor's collection included "the banister posts, which are from Mrs. Kantor's fine old home on Lake Port Plantation in Arkansas." In two photos that accompany the article, you can clearly see the balusters referred to in the article. From the photos, they looked a lot like Lakeport's originals.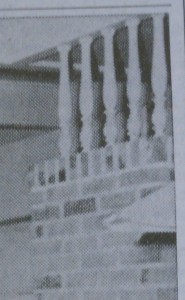 Close-up of balusters in Kantor home, 1953
It turns out that Mrs. Harold Kantor was Helen Epstein Kantor, one of Sam Epstein's three daughters. Sam Epstein purchased Lakeport from the original Johnson family in 1927 and, it seems, Mrs. Kantor took a number of the balusters from Lakeport for her new home in 1953.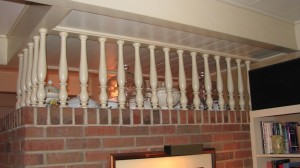 Inside the Kantor home, Wilzin Park, November 2008
After a little research, I figured out the address of the home and saw that it was for sale through Collins Real Estate. After learning the balusters were still in the house, I was able to meet with the owner and take several pictures documenting the 19 balusters.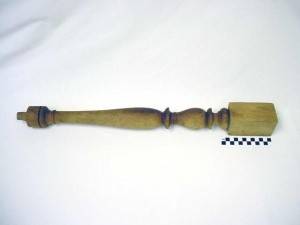 Original baluster found in Lakeport's commissary
Before the restoration of Lakeport, it was thought that all the balusters were missing. However, two turned up on a top shelf of the commissary. These two were used to recreate the balustrade during restoration. Now with the donation of the Kantor balusters, we now have almost 30% of the originals. These won't ever be put back on the house, but will be kept as artifacts for display and references in case we need to make any replacements.