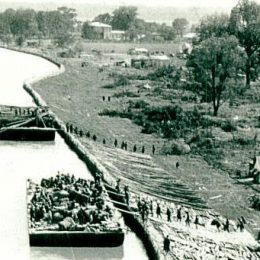 April 21, 1917 — Ninety years ago today, levees broke on the Arkansas River at Pendleton (about 60 miles north of Lakeport) and at Mound Landing in southern Bolivar County (about 17 miles north of Greenville).
Victor Johnson, the last Johnson resident at Lakeport, had moved to Greenville in 1917 and built a house on Fairview Extended. Victor wrote in 1939, "we had everything destroyed in the overflow of 1927." While not everything of the Johnson's was destroyed, the flood did extensive damage to homes, businesses, and lives in Greenville.
While there was plenty of damage in Arkansas, the Johnson's property would have been safer in their Lakeport home in Arkansas. With the levee on the Arkansas River breaking 60 miles away at Pendleton, the flooding was likely less intense at Lakeport. Built on a slight elevation, the home was probably flooded only in the crawl space.
Also see:
"The Flood of 1927 and Its Impact in Greenville, Mississippi" By Princella W. Nowell
http://www.mshistorynow.mdah.ms.gov/articles/230/the-flood-of-1927-and-its-impact-in-greenville-mississippi