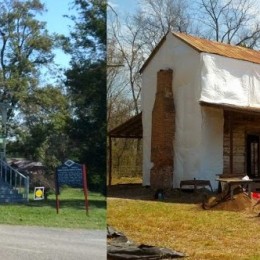 Lakeport Legacies: 
UAM's Historic Properties and Tourism in Southeast Arkansas
Dr. John Kyle Day (University of Arkansas at Monticello)
Thursday, September 25, 2014
Refreshments & Conversation @ 5:30 pm
Program @ 6:00 pm

Law office of Gov. X. O. Pindall at Arkansas City and the Taylor House near Winchester are two historic properties recently acquired by UAM
The University of Arkansas at Monticello is engaged in plans to create a Southeast Arkansas Heritage Trail anchored by its three historic properties: WW II Italian POW Camp near Monticello (Drew County), the law office of Arkansas Governor Xenophon Overton Pindall in Arkansas City (Desha County), and the ca. 1846 Taylor House at the Hollywood Plantation near Winchester (Drew County). Dr. John Kyle Day, associate professor of history, will discuss the university's plans to save, preserve, and interpret these important historic sites for students and the public.
Please RSVP to this Free Event
870.265.6031
Lakeport Legacies (LL) meets in the Dining Room of the Lakeport Plantation house. LL, held on one of the last Thursdays of the month at the Lakeport Plantation, features a history topic from the Delta. For more information, call 870.265.6031.