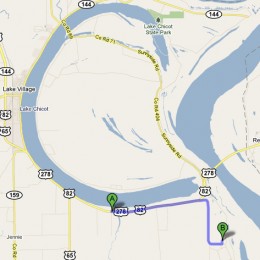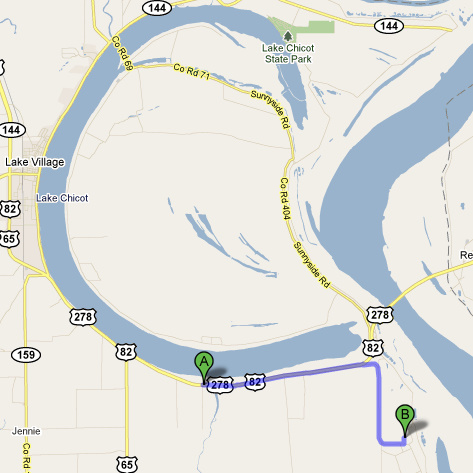 The Ditch Bayou Battlefield, the last major battle fought in Arkansas, is part of Arkansas Historic Preservation Program's Cell-Phone Tours of Historic Sites in Arkansas.  The Battle, fought on June 6, 1864, was part of a Federal effort to drive Confederate forces way from the Mississippi River and cease attacks on Union shipping.  The outnumbered Confederate forces lost only 4 men before running low on supplies and withdrawing.  Federal forces lost 132 men.   The audio for all the sites is also available online for streaming or downloading.  Page for all audio tours
AHPP ANNOUNCES CELL-PHONE TOURS OF HISTORIC SITES AROUND ARKANSAS
LITTLE ROCK–The Arkansas Historic Preservation Program now offers free cell-phone tours of historic sites around the state, AHPP Director Frances McSwain announced today.

"These cell-phone tours will allow visitors to get in-depth information on historic properties at the touch of a button," McSwain said. "We currently have 15 cell-phone tours recorded and will add more in the coming months."

The cell-phone tours can be accessed by calling 

(501) 203-3015

 or by visiting 

http://www.arkansaspreservation.com/tours-events-workshops/audio-tours/

. Current tours include Boyle Park (Stop 21), First Lutheran Church (Stop 41), Robert E. Lee School (Stop 51), Little Rock City Hall (Stop 61) and the Fourche Bayou Battlefield (Stop 11) in Little Rock; Crestview Park (Stop 31) and the Park Hill Fire Station and Water Company (Stop 71) in North Little Rock; Cane Hill Battlefield (Stop 10) in Washington County; Elkins' Ferry (Stop 12) and Prairie D'Ane (Stop 13) Battlefields in Nevada County; Poison Spring Battlefield (Stop 14) in Ouachita County; Fort Southerland (Stop 18) in Camden; Marks' Mills Battlefield (Stop 15) in Cleveland County; Jenkins' Ferry Battlefield (Stop 16)  in Grant County, and Ditch Bayou Battlefield (Stop 17) in Chicot County.
The Ditch Bayou Battlefield markers (A)are approximately 5.5 miles from the Lakeport Plantation (B).

The AHPP is the Department of Arkansas Heritage agency responsible for identifying, evaluating, registering and preserving the state's cultural resources.
The Lakeport Plantation house is an Arkansas State University Heritage Site.   Built for Lycurgus and Lydia Johnson in 1859, the Greek Revival home is one of Arkansas' premiere historic structures and is now the only remaining antebellum plantation home in Arkansas on the Mississippi River.  The Johnson family retained ownership of the house until 1927, when the Chicot County plantation was purchased by Sam Epstein.  The house was added to the National Register in 1974 and was gifted to Arkansas State University in 2001 by the Sam Epstein Angel Family.  Following a massive restoration effort, the home opened to the public on September 28, 2007.




Read more about the Battle on the Encyclopedia of Arkansas or in the Arkansas Historical Quarterly:
Shea, William L. "Battle at Ditch Bayou." Arkansas Historical Quarterly 39 (Autumn 1980): 195–207.