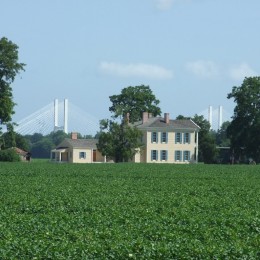 One of things that makes Lakeport special is the continued cultivation of cotton around the home. With the home still in its original surroundings, its link to the past is ever-present. In 1831, Joel Johnson left Scott County, Kentucky with 23 enslaved laborers for Chicot County. The enslaved laborers slowly carved a plantation out of bottomland hardwood forests. By 1850 the Lakeport estate contained 4,013 acres, 132 slaves, 20 horses, 34 mules, and 85 cattle. It produced 4,000 bushels of corn, 475 bales of cotton (400 lb), 300 bushels of potatoes, 300 bushels of sweet potatoes, and 20 bushels of peas and beans.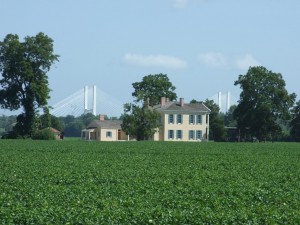 Green Fields of Cotton, July 22, 2010
The fields of cotton provide a beautiful backdrop to Lakeport and its agricultural history, but we should also think about how much Lakeport changed in the past 160 years; Plantations are no longer diversified centers of agriculture. Lakeport is strictly in cotton now. There are no mules, horses, or oxen and no corn is grown to feed those beasts of burden. And rather than grow their own food, cotton farmers today likely buy their food at grocery stores like Sunflower or Yee's Food Land in Lake Village. Cotton plantations have also gone through several stages: slave-based labor to sharecropping and tenant system to mechanization today. Where it took hundreds of laborers and animals to grow a season of cotton in 1850, today it requires a handful of workers, plus tractors, fuel, and cropper dusters that spray for pests and the defoliants that reveal the white bolls of cotton that we see in September.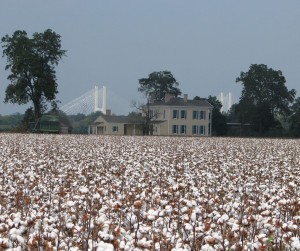 Cotton Picking, September 16, 2010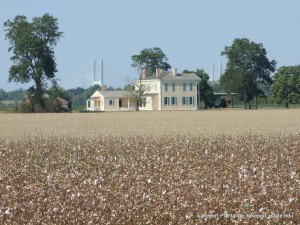 Crop picked and half the field brush hogged, September 20, 2010