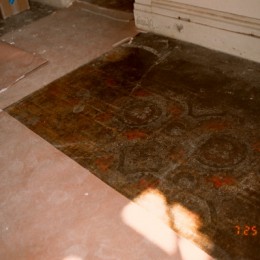 The ca. 1860 floor cloth was one of the most exciting finds during Lakeport's restoration.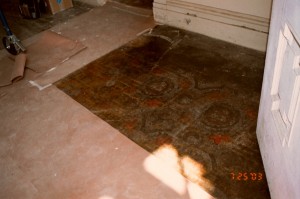 The wall to wall (15' x 9" x 26' 2") floor cloth (or oil cloth) was rediscovered in the entry room during restoration, having been previously documented by the Arkansas Historic Preservation Program in the 1970s. Canvas floor cloths were often painted to give them the look of carpet, but with increased durability. The floral and medallion composition of the design conforms to known woven carpet patterns of the period.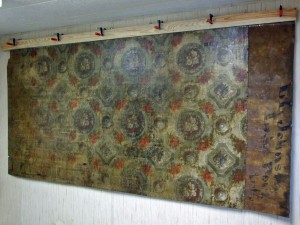 Conserved sections of Lakeport floor cloth
The two sections displayed have been cleaned and conserved by Becky Witsell's Studio Werk in Little Rock. Analysis revealed the cloth, painted with fourteen colors,
is "composed of Bast fibers which are linen, flax, hemp or jute."
Additionally, t
wo labels were discovered underneath the floor cloth, which also transposed on the flooring. In the southeast corner a shipping label states, "L. L. Johnson, Lakeport, Ark." While at the threshold to the entry of the home, a worn dealer's mark partially reads, "Fr[om] Hi[?], Louisville, KY."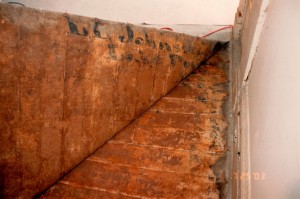 Shipping Label, Southeast Corner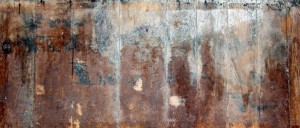 Negative image of Lakeport entry threshold shows some of the dealer's label.
The worn dealer's label has always been a source of frustration. The fact that it read Louisville, KY is interesting, because the Johnson's are from Kentucky and other materials for the house are also coming from that area–
Wallace & Lithgow Stove
, as well as the mantels (Madison, Indiana). But we have always wanted to know who "Hi[?]" was. Well, thanks to a little bit of historical research, we can, with some certainty, say that the importer of the floor cloth was the firm of "Hite & Small" in Louisiville, KY.
From the entry floor we can make out the "Fr[om] … Hi[?]…Louisville, Ky".
From knowing that, we looked in the 1859
Hawes' Kentucky State Gazetteer and Business Directory
on microfilm and found "Hite & Small" under "Hi".
Since they are importers, the floor cloth could very well be made somewhere else [There were floor cloth makers in Kentucky in the mid-19th century].
There is also an 1859 City Directory online (difficult to search thru, though). There, we find Hite's and Small's full names (William C. Hite and George W. Small)
Hite seems to show up in the 1860 Census as a 37 year old, Engineer born in Ireland with $800 real estate, $200 personal estate. (not so sure about it though). While, Small is a 45 year old, Kentucky born Merchant worth $40,000 real estate, $30,000 personal estate.
Hite & Small advertisement, Louisville Daily Journal, Feb 1, 1859