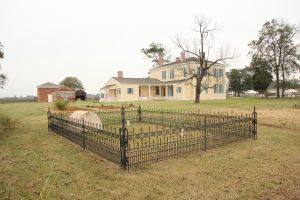 Just behind the Lakeport house is a small children's cemetery with post-Civil War burials of Lycurgus and Lydia Johnson's children and grandchildren. Unprotected for many years, markers had been lost–some apparently drug into the field by tractors.  Before restoration, the small crypt was the only for sure burial. Parts of four small markers were eventually discovered  and ground penetrating radar revealed that there are at least two other burials and likely a third.  
Of the four markers, only two have initials: "C.J." for Cable Johnson (b. March 15, 1865; d. August 5, 1867) and "L.J.S." for Lydia J. Starling (b. October 19, 1879; d. 1882). The third and fourth markers do not have any visible initials. Those markers are likely for Julia J. Johnson (b. July 12, 1860; d. November 1, 1869) and Lucie C. Worthington (b. January 8, 1880; d. June 5, 1881).
However, a recently discovered record suggests there is a fifth child buried in the cemetery.
Emma Peak and Walter Johnson married at Grand Lake, Chicot County on January 7, 1886. Emma, writing in 1937 in an unpublished memoir, stated, "Shortly afterwards we moved north to Wilton [Iowa] to be near Mr. Johnson's business."  In a chapter titled, "Baby John," she writes about the loss of her first child:  "My first baby was a plump little boy with lovely large light blue eyes and red curls. A baby with lovely disposition. He loved people and would go to everybody who held out their arms to him….Little John stayed with us for fourteen months a baby loved by everyone."
According to Iowa, County death records, 1880-1992, John P. Johnson, 13 months old, died on July 25, 1888 in Wilton Junction, Iowa. The record shows he was buried at Lakeport, Arkansas, very likely with his cousins behind the Lakeport family home.


Lycurgus and Lydia chose to bury their children who died before the Civil War in Frankfort, Kentucky and would eventually join them in 1876 and 1898.  Unlike their parents, the Johnson daughters, Annie Starling and May Worthington, as well as Emma and Walter Johnson and chose their childhood home, Lakeport, as the place to bury their children–even sending little John Peak Johnson all the way from Iowa.
Notes (updated December 12, 2018):
The cast iron fence was added around the cemetery was added in 2008. A gift of Annie Paden, a descendant of Mary (May) Johnson Worthington, the iron fence surrounded Annie Taylor Worthington Spencer's home on the Glen Allan Plantation in Glen Allan, MS.
Lydia Starling (1879-1882) was the daughter of Annie Johnson Starling (daughter of Lycurgus and Lydia Johnson) and Charles Hensley Starling. Nine-year-old Julia J. Johnson died in November 1869 about eight months after her brother, Cable.  Lucie Worthington (1880-1881) was the daughter of Mary (May) Johnson and Isaac M. Worthington, Jr.
A copy of Emma Peak Johnson's unpublished 1937 memoir, Growing Pains are Heaven, is on file at the Lakeport Plantation.
John P. Johnson's death is indexed as "John P. Jackson,"https://www.familysearch.org/ark:/61903/1:1:XVQR-BM4 but it is clear in the original that it is "Johnson."
Also see this post from 2012 —