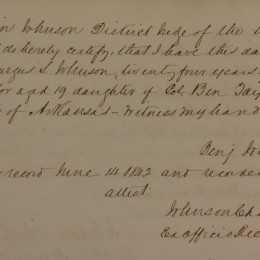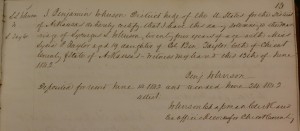 The marriage of Lycurgus Johnson, age 24, and Lydia Taylor, age 19, on June 13, 1842 is recorded in county records at the Chicot County Courthouse. The marriage was officiated by Lycurgus' uncle, Benjamin Johnson, who was the Federal Judge for the District of Arkansas.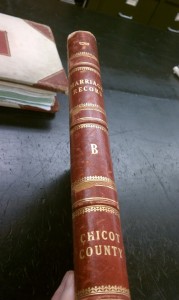 Lydia Taylor was the daughter of Col. Benjamin Taylor. Col. Taylor was among the Kentucky kinsmen who began buying Arkansas land in the 1830s. He had four daughters, Ann Taylor Johnson Worthington (widow of Lycurgus' uncle James Johnson before marrying Isaac Worthington), Mary Jane Taylor Cable, Lydia Taylor Johnson, and Theodosia Taylor Sessions. Col. Taylor died in 1850 when he and his horse were swept away and drowned during a rainstorm. He is buried in Lexington Cemetery.
Lycurgus and Lydia had twelve children during their marriage:
1. Joel Johnson, born May 16, 1843, died Dec. 30, 1847
2. Benjamin Taylor Johnson, born March 25, 1845, died Jan. 8, 1848
3. John Henry Johnson, born Oct. 23, 1846, died Dec. 20, 1847
4. Mary J. Johnson, born October 21, 1848
5. Linnie Johnson, born September 12, 1850
6. Theodore Johnson, born May 6, 1852
7. Annie Johnson, born April 25, 1854
8. Cave J. Johnson, born February 13, 1856
9. Walter L. Johnson, born January 8, 1858
10. Julia J. Johnson, born July 12, 1860, died November 1, 1869
11. Victor M. Johnson, born February 17, 1863
12. Cable Johnson, born March 15, 1865, died August 5, 1867


Except for one, all the children, were born in Chicot County, Arkansas at the Florence Plantation or Lakeport Plantation. Linnie Johnson was born in Lexington, Kentucky in September, where the family spent their summers. The couple's first three children died within three weeks of each other at the Florence Plantation in Arkansas. Mostly likely the cause of their early deaths was a cholera, yellow fever or influenza epidemic. Those three children are buried at the Frankfort Cemetery in Frankfort, Kentucky. The two children who died at Lakeport Plantation after the Civil War, Cable (d. 1867) and Julia (d. 1869) are buried at Lakeport. Lydia and Lycurgus are both buried in the Frankfort Cemetery near Lycurgus' father, Joel. It is unclear where Lycurgus' mother, Verlinda Claggett Offutt (1795-1868), is buried. There is no marker for her at Frankfort Cemetery and she's not listed on Joel's obelisk marker.