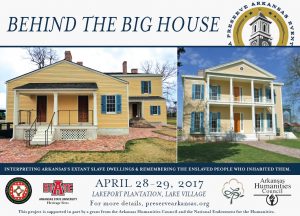 Contact: Rachel Silva Patton
501-372-4757
rsilva@preservearkansas.org
For Immediate Release – March 9, 2017
Preserve Arkansas to Present "Behind the Big House" Program at Lakeport Plantation
LITTLE ROCK—Preserve Arkansas, in partnership with the Arkansas Humanities Council, Arkansas State University Heritage Sites, Black History Commission of Arkansas, and Lakeport Plantation, is proud to present "Behind the Big House" on April 28-29 at Lakeport Plantation in Lake Village, Arkansas. The Behind the Big House program moves beyond the "Big Houses," or stately historic homes, to explore extant slave dwellings and interpret the experiences of the enslaved people who inhabited them. This workshop will include live historical interpretations and lectures to highlight the important contributions African Americans made to Arkansas's history and provide a broad understanding of the importance of slave dwellings and their role in heritage tourism.
Registration is free, but space is limited. Register at www.preservearkansas.org by April 14. Registration does not include lunch. An optional box lunch may be pre-ordered for $12. For more information and the full schedule of events, call 501-372-4757 or visit www.preservearkansas.org.
This project is supported in part by a grant from the Arkansas Humanities Council and the National Endowment for the Humanities.
Preserve Arkansas works to build stronger communities by reconnecting Arkansans to our heritage and empowering people to save and rehabilitate historic places. For more information about Preserve Arkansas or to become a member, contact Rachel at 501-372-4757, rsilva@preservearkansas.org, or visit www.preservearkansas.org.
###